At our Midlands based manufacturing facility, we have the experience and skills to offer off the shelf systems designed to meet our clients' individual specifications. We offer a project management service and have an experienced installation team who can provide a full mechanical and electrical installation. As well as designing and manufacturing conveyor systems for the pharmaceutical industry – Unitech also offer an extensive range of food conveyors for the food processing and beverage industries.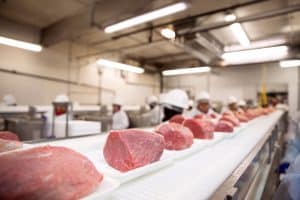 We have supplied our conveyors extensively across the UK and also world-wide to bakeries, dairies, meat and fish processing plants, confectionery manufacturers, cereal producers, ready-meal suppliers and bottling plants to name but a few.
Whether you require a solution to a simple conveying problem, a re-design of your conveying system or are looking to design a system for a new facility, contact Unitech to today for the perfect food conveyor system.